During FirstMovr's Future of Engagement Leadership Summit, Pam Perino, E-Commerce Content and Syndication Manager at Ghirardelli, joined Dave Feinleib, CEO of It'sRapid, to delve into the dynamic world of e-commerce content creation. Pam provided insights into Ghirardelli's unique approach to content strategy, focusing on creating engaging, dynamic, and seasonally relevant content to capture and engage online shoppers.
A Unique Approach to Content
Content Evolution and Goals: Ghirardelli recognized the need to continually evolve its e-commerce content strategy. With shifting retailer requirements, changing packaging, and a diverse range of seasonal opportunities, maintaining a proactive content approach is essential. Continual iteration is dependent upon an effective, responsive content creation process.
Micro Seasons and Shopper Trends: Ghirardelli leverages micro seasons—smaller consumer trends outside of traditional holidays—to stay relevant throughout the year. By aligning with shopper behaviors and interests, the brand enhances its content strategy to connect with its audience. 
Partnerships and Collaborations: Successful content creation requires cross-functional collaboration. Pam highlighted the importance of a collaborative approach, engaging with internal teams and external partners, including agencies and technology providers. Seamless collaboration allows for the effective repurposing and distribution of content across various platforms, optimizing shopper engagement. 
Video Content Revolution: The conversation also centered around the evolution of video content. Ghirardelli is exploring how to create engaging video content that goes beyond traditional commercial clips. By repurposing existing materials and coordinating with creative teams during photoshoots, the brand is producing dynamic video assets to engage online shoppers.
Rapid Content Creation: In collaboration with It'sRapid, Ghirardelli is embracing a more efficient content creation process. By utilizing AI and establishing streamlined workflows, they can quickly adapt their content to various formats and channels while ensuring consistent quality and engagement.
Craft Innovative and Agile Content
Ghirardelli's success story is a testament to the agility required in modern e-commerce content creation. By tapping into the pulse of consumers and fostering dynamic collaborations with partners like It'sRapid, brands can carve a path towards engaging and resonant content for their online audience.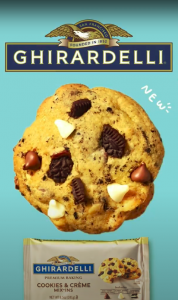 Ghirardeli cookies and cream video
It'sRapid has been instrumental in revolutionizing content creation workflows for brands like PepsiCo, Newell, and Ghirardelli, showcasing the value of innovation and adaptability in shaping a brand's digital narrative. To take the next step, explore the possibilities with It'sRapid by securing your spot for an immersive live demo today. Book a demo, here.