Turn your Bazaarvoice UGC into Ad Units, PDP Images and Videos with the click of a button!
Incorporate UGC into the entire shopper journey to increase ROI
Bazaarvoice and It'sRapid have partnered to make creating UGC ads fast and easy. Let us show you how we help leading brands and retailers:
– Combine product imagery and UGC
– Leverage UGC in display media
– Build UGC into PDP images and videos
– Help brands do more with their existing UGC
– Lower barriers to entry
On average, shoppers consume seven or more hours of digital content per day. UGC ads from Bazaarvoice and It'sRapid turns those browsers into buyers.
"Collaborating with It'sRapid allows us to present genuine and invaluable UGC to consumers at every stage of their purchasing journey, empowering them to make well-informed and confident buying decisions."
– Shaun Lin, Director of Channel Partnerships, Bazaarvoice
Ads featuring UGC deliver 4X higher click-through rates (Shopify, 2022), while shoppable display ads drive a 39% increase in new to brand conversions on Instacart and other retailers. Put them together with the It'sRapid + Bazaarvoice solution and you can increase click-through rates while bringing mroe new shoppers to your brand.
ALL IN ONE SOLUTION
Why It'sRapid?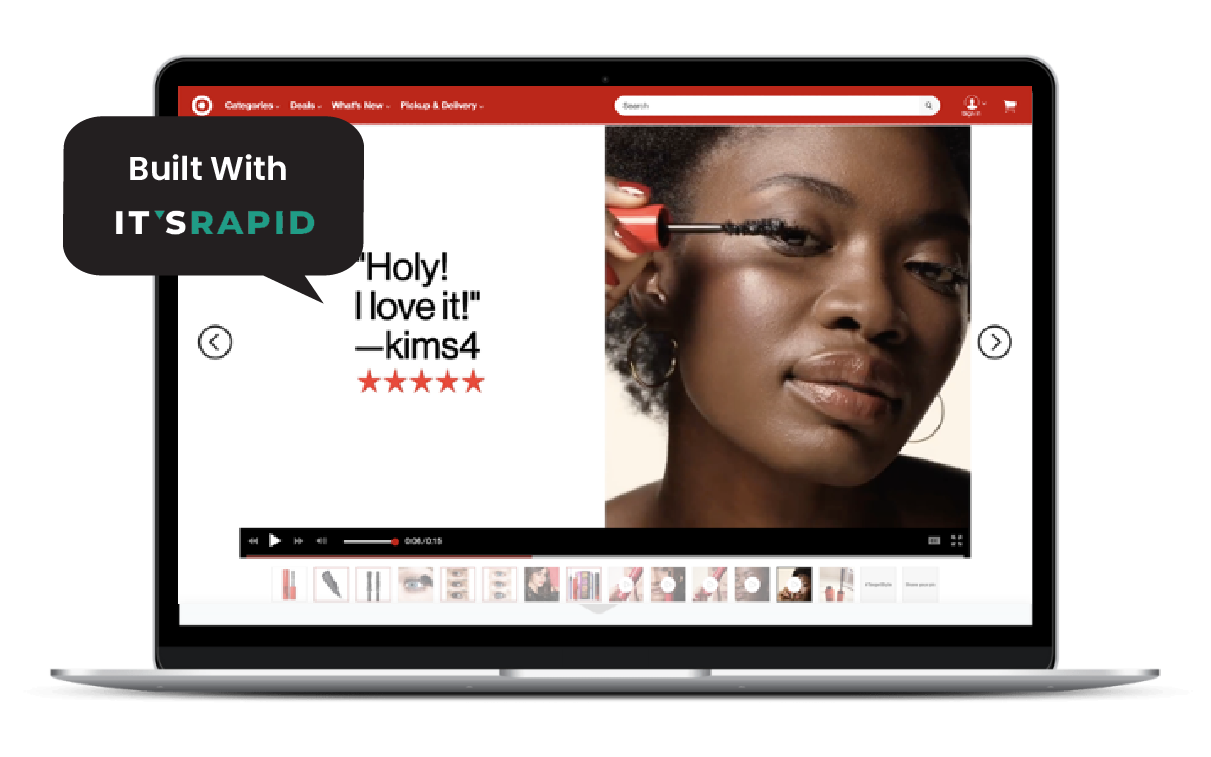 ONE PRODUCTION TOOL
Take the guess work out of creative production
• Utilize retail-specific guidelines and templates
• Option to start with a pre-loaded theme
• Upload your company's UPC list to easily pull in product shots
COHESIVE CREATIVE
Extend cohesive creative to all commerce content
Upload images, product shots and copy for high-quality display banners
Leverage a mix of images and videos to produce for shoppable videos
Develop beautiful infographics for use on PDPs
BRAND-CENTRIC
Build brand-centric creative themes
• Design backgrounds according to important brand occasions
• Choose a color scheme and apply to all banner sizes and retailers
• No need for expensive, hard to use editing software
EASY STEPS
How Does It Work?
Step 1
Upload your Brand Kit, existing marketing assets and product images.
Step 2
Choose your channels, templates, and settings.
Step 3
Build display ads and deliver direct to file servers or ad serving platforms with the correct size, format and naming conventions.
Contact us to find out more!