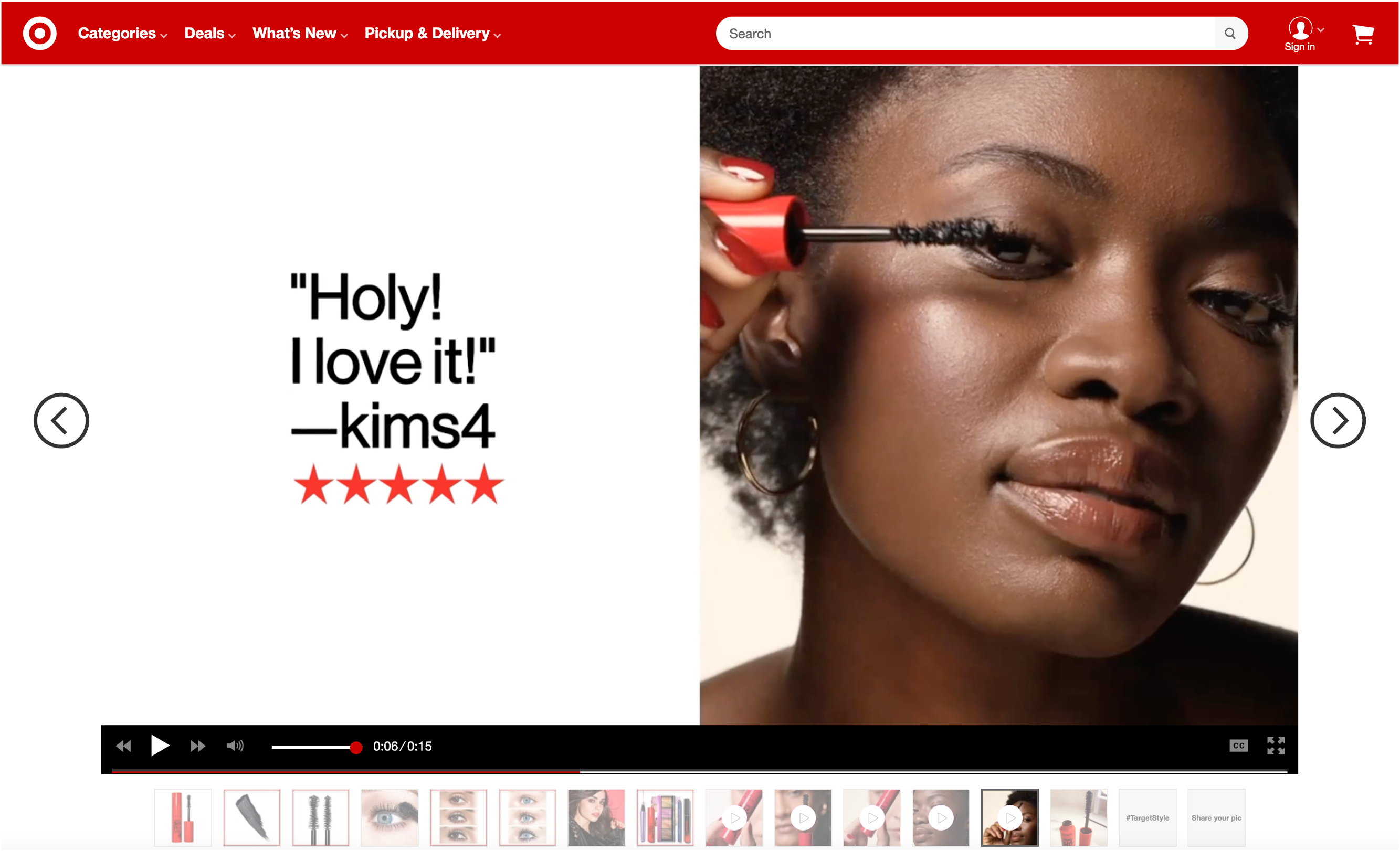 Revlon
How Revlon Creates Videos at Scale with IT'SRAPID
Revlon was looking for an easy and cost-effective way to create custom, high quality videos for its full catalog of SKUs across multiple brands. Here's how Revlon was able to accomplish this goal, leveraging existing marketing assets and a new modular approach to content creation.
About Revlon
Revlon is a leading global beauty brand. The Revlon portfolio includes multiple brands that are marketed across a variety of different .com retailer web sites, including Amazon, Target, Walmart and many others. The Revlon family of brands includes Almay, Cutex, Mitchum, Revlon and more. Using consumer and market-driven insights and the Revlon team's creativity, the company's goal is to delight consumers with innovative products that set the trend.
Before using IT'SRAPID, Revlon had no easy way to create videos for its extensive set of products. While Revlon benefitted from a large library of image and video content, many of the images were not sized properly for use on the web, and videos were long-form. This made it challenging to create short form (15 – 30 second) videos suitable for the retailer e-commerce web sites. Among the other challenges the team faced were: layered files that could not be easily edited for use in videos; shadow effects that needed to be removed; and clipping and resizing of videos for them to be used effectively on the web. The team hoped to avoid expensive re-shoots of images and videos. Their goal was to create semi-custom videos that would engage shoppers, ultimately resulting in more sales. They wanted to do this quickly and efficiently, while also executing seasonal refreshes, all while making use of existing marketing approved images and videos.
Building Videos at Scale
To execute on high quality video builds quickly and efficiently, REVLON saw the need for a new modular approach to content creation, combined with a toolset that would enable any team member to create videos–even those without significant design experience. The REVLON design team oversaw the creation of templates, while the REVLON sales and marketing teams executed on the video creation. REVLON has seen an increase in engagement from shoppers.
The team has been able to make use of brand-specific themes in IT'SRAPID to support fast execution across multiple brands. REVLON uses video templates, such as Tentpole, Seasonal, Testimonial and How To to repurpose existing marketing assets into brand new videos that are specific to each SKU.
Start creating content faster!
With tools to make every part of your video design, collaboration, and delivery more efficient and effective, supercharging your videos with IT'SRAPID has never been easier.